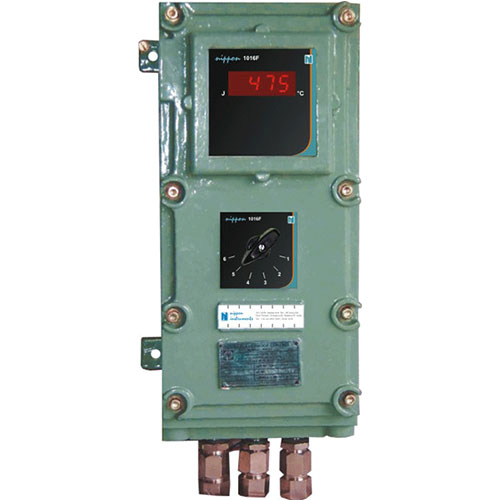 Nippon 1016F
Nippon 1016F is a 6 channel temperature indicator. Here 6 different channels are connected to 1 instrument. 6 way heavy duty switch is provided for selection of channels.
Nippon 1016F is designed for 3 1/2 digit indicator. It has 7 cable entries. The dimensions are 360 mm (H) X 180 mm (W) X 150 mm (D).
Nippon 1016F offers excellent space & cost saving. Customised 4 1/2 digit display available.
Highly accurate & reliable
Glass Epoxy single board design
R.T.D.'s 4 to 20 mA, 0-1 VDC & thermocouple inputs
Attractive & small housing
Model No.

Sensor

Range

Calibration accuracy

Resolution
ºC / ºF

nippon 1010AF

Pt-100

-100.0 to 199.9 ºC
-148.0 to 199.9 ºF

0.25%

0.1

nippon 1010F

Pt-100

-100.0 to 600.0 ºC

-148.0 to 1112 ºF

0.25%

1

nippon 1010F

Iron / Constantan (J)

-100.0 to 600.0 ºC
-150.0 to 1112.0 ºF

1%

1

nippon 1010F

Chrome / Alumel (K)

-80.0 to 1200.0 ºC
-12.0 to 1999.0 ºF

0.7%

1
| | |
| --- | --- |
| Enclosure Certification | Enclosure is certified by C.M.R.S., Dhanbad |
| Gas Group | IIA & IIB as per IS 2148/1981 |
| Degree Protection | IP 55 as per IS 2147/1962 |
| Material of Construction | Diecast alloy LM6 |
| Cable Entries | Maximum 2 Nos., 3/4" ET Standard and 1/2" B.S.P. / N.P.T. (Optional for indicators) |
| Display Window | +Made from toughened type 'A' clear glass as per IS 2206. |
| Mounting | Wall / structure, 2 holes. |
| Dimension | 200(H) X 140(W) X 90(D) dimensions in mm. (for indicators) |
| Weight | LM6-2Kg |
| Finish | Light Grey Epoxy, shade no. 631 as per IS-5 |
| Rating | 10 Amp, 500 Volts |
| Earthing | 1 terminal outside |
| Inputs | R.T.D.'s like PT-100, PT-50, 4-20mA, 0-1 VDC, & all types of thermocouples. |
| Range, accuracy, Resolution | Refer Table-A |
| Display | 3 1/2 digits, bright 7 segment L.E.D.'s (ht12.5mm) |
| Sensor Open | Display indicates "1" |
| Cold Junction Compensation | Automatic |
| Supply Voltage | 230 VAC± 10% |