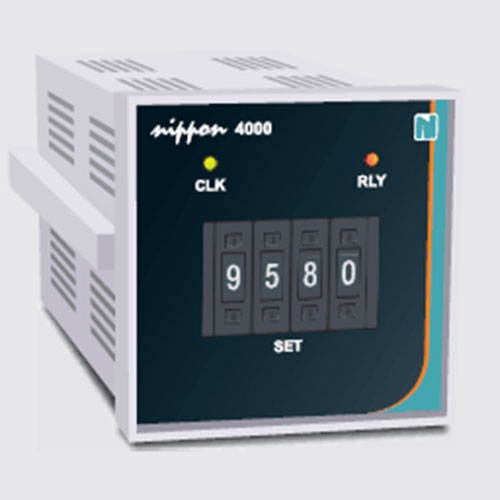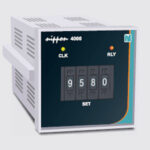 Nippon 4000 Presettable Timer
Nippon 4000 is low cost presettable timer. Presettable timers with and without battery backup
facility. They are used in plastic moulding machines, Chemical Plants, Textiles, Pharmaceutical machines, ovens, dryers, furnaces, scientific and laboratory equipments, etc. where accurate time measurement and control is required.
Quartz Crystal time base having accuracy 0f 0.01%
Bright Display.
Bright easy to read Display.
Time counting in Seconds, fraction of seconds, minutes, Hours available.
CMOS IC's used for better reliability.
Modular System.
| | |
| --- | --- |
| Range | 0 to 99, 999, 9999, Seconds / Minutes / Hours fraction of Seconds. |
| Time Base | Derived from QUARTZ CRYSTAL |
| Accuracy | Repeat accuracy of 0.01% |
| Display | 2, 3 or 4 digit bright Seven Segment display. |
| Time Setting | By Thumbwheel Switches. |
| Logic | Delayed On, Delayed Off, Auto reset. |
| Output | O.E.N. relay rated at 230 V/6AMP. |
| Supply | 230 VAC ± 10%, 50 Hz. |
| Box | 96 (H) x 96 (W) X 180 (D), mm DIN size box with modular cards. Also available in 72 (H) X 72 (W) X 110 (D), mm DIN size. |