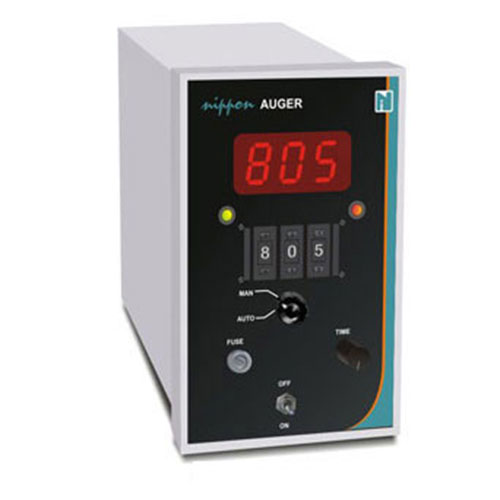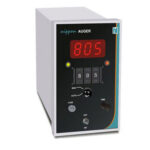 Nippon Augar Timer 8000T
Both Auto / Manual mode user selectable.
3-digit Thumbwheel setting for 'CLUTCH ON'0-10 Seconds Timer for 'BRAKE ON' 3 digit bright easy to read LED display.
Quick response Transistorised output of 24 V/1.5 Amp. suitable for Clutch / Brake.
Modular Design in 192 H X 96 W in mm DIN size Metallic Box.
Specifications
Design Features
Modes
Auto / Manual Mode user selectable by front panel bounceless switch.
Range
(A) 0-99 & 0-999 Counts for 'Clutch On'
(B) 0-10 seconds for 'Brake On'.
Accuracy
Absolute as works on Digital Counting Principle.
Setting
3-digit Thumbwheel Switch for 'Clutch On' Counts. Potentiometric Knob for 'Brake On' time.
Foot Switch
Provided on Back Terminal.
Display
3-digit Bright easy to read LED.
Control Output
High Speed Transistorised Output rated at 24 V/1.5 Amp suitable for Clutch / Brake assembly.
Supply
230 VAC± 10%. 50 Hz
Dimensions
192 H X 96 W X 150 D in mm Metallic case.
Nippon Augar Timer is an exclusive, electronic controller for auger fillers giving precise and fast powder filling. Excellent circuitry, elegant and small model is designed to give better performance on 'AUGAR FILLERS'. In AUTO MODE Clutch and Brake will be on one after another as per the set parameters. 'Clutch On' counts to be set on 3-digit Thumbwheel switch. 3-digit display will display the actual counts. Clutch remains on till the actual counts are less than set counts. at set value brake will get on and will be on for the brake time. Brake time is to be adjusted by front panel potentiometer. Overshoot counts will be displayed for BRAKE ON. In manual mode BRAKE ON until the back panel 'Foot Switch is pressed'. After the 'Foot switch' is pressed clutch remains on upto the set counts. Front Panel Power ON / OFF switch is provided for users convenience.