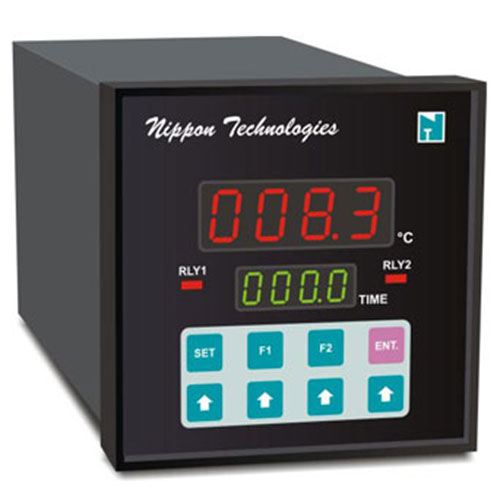 Nippon Blood Bank controller
UN2000 is used in this application. TEMP/TIME Based control is designed for BLOOD BANK CHAMBERS . Compressor is switched ON & OFF considering
SET TEMP & TIME. Compressor is on upto the set point, below the setpoint it gets.
Once the compressor gets off & if temperature increases above set point it can get ON only after the DELAY TIME.
The delay time is also programmable.
THE TIME & TEMPERATURE MONITORING AND CONTROL LEADS TO OPTIMUM USE OF COMPRESSORS ToO !
INPUT
DISPLAY
2 Sets of (4+4) digit display
1st for Chamber Temperature & 2nd for Delay time
RANGE

Temperature 00 to 80.0 °C,Time 1-99 Minutes

RESOLUTION
compressor safety timer

Provided to avoid frequent on/off

output
2 Relays
One relay for Cooling (Compressor), Second relay for Alarm
SETTING

By Feather touch membrane key pads

REPLAY RATING

230 Volts / 6 Amp. ( SSR O/P ON REQUEST)

REAL TIME CLOCK

Non Volatile Time Keeping RAM ensures correct Clock.

DATA SETTING

By NVRAM, ensures data retention for 10 years.

NOISE IMMUNITY
A) EMI/RMI interface is suppressed by MOV's & R-L-C filt
B) .WATCH DOG. guards CPU during power transie
COMPUTER INTERERENCE

RS232 / RS485 / NIPPOLOG available

SUPPLY
BOX

96(H) x 96(W) DIN size, Modular Design