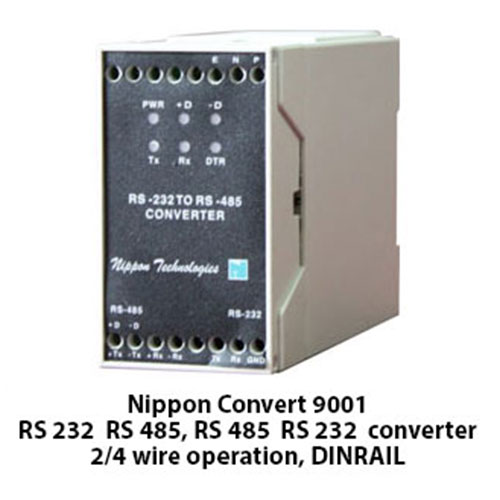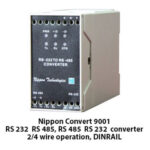 Nippon Convert 9001
Nippon Convert 9001 is designed for computer connectivity. The product is designed from state-of-the-art micro-controller. Convert9001 offers 2 modes of communication. One is RS232-RS485 & other one is RS485-RS232.
Serial RS232 data can be converted to RS485 data. RS485 data can be converted to RS232 data. RS485 is available with 2/4 wire option.
The instrument is having D type connectors, the sturdy and modular design offers excellent performance in data communication.
| | |
| --- | --- |
| Communication Port | 9-pin D-type FEMALE Connector for RS-485 25-pin D-type MALE Connector For RS-232 |
| Display | LED Indications Power, DTR, Tx (Transmit) and Rx (Receive) |
| Power Supply | 90-260 VAC, 50Hz |
| Power Consumption | Less than 5VA @ 230 VAC |
| Operating Temperature | 0 to 50ºC |
| Dimensions | 72 mm (W)* 72 mm (H)* 110 mm (D) |
| Weight | 250 grams |
PIN Connections RS 232 PORT (25 FEMALE)
| RS 232 PORT | CONNECTION |
| --- | --- |
| 2 | Tx |
| 3 | Rx |
| 7 | GND |
| | | |
| --- | --- | --- |
| RS232-RS485 Master Converter | PC | PC |
| 25-MALE | 25-FEMALE | 25-FEMALE |
| 2 | 2 | 3 |
| 3 | 3 | 2 |
| 7 | 7 | 5 |
RS485 PORT (9 MALE)
| | |
| --- | --- |
| RS 485 PORT | CONNECTION |
| 3 | - Rx |
| 4 | + Rx |
| 5 | +Tx |
| 6 | - Tx |
RS485 PORT (9 Male)
| | | |
| --- | --- | --- |
| MASTER CONVERTER 4-W   2-W | SLAVE-1 4-W   2-W | SLAVE-2 4-W   2-W |
| 9-FEMALE | 9-FEMALE | 9-FEMALE |
| 5(+Tx)   5(-Tx) | 4(+Tx)   5(+Tx) | 4(+Rx)   5(+Tx) |
| 6(-Tx)   6(-Tx) | 3(-Rx)   6(-Tx) | 3(-Rx)   6(-Tx) |
| 4(+Rx) | 5(+Tx) | 5(+Tx) |
| 3(-Rx) | 6(-Tx) | 6(-Tx) |