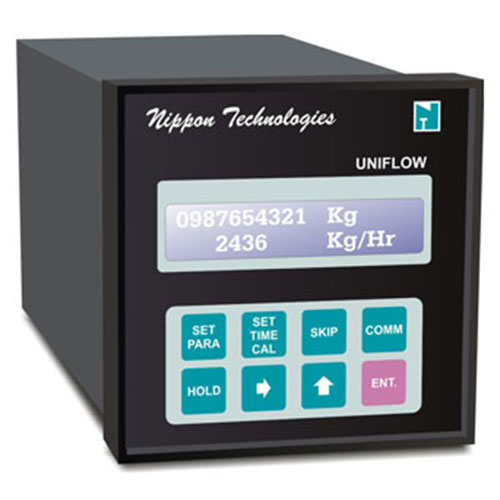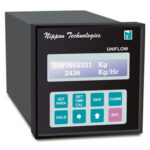 Nippon Nippoflow 96 x 96
Linear or Square Root Operation Possible.
5/4 Digits Flow Rate.
10/8 Digits Flow Totaliser.
Precise Measurement.
10 Years Memory.
RS 232/RS 485 Interface with MODBUS.
At Affordable Prices.
"NIPPO FLOW" series is designed with help of State-of-art micro controllers. The instruments can measure Flow accurately, it accepts signals, from FLOW TRANSMITTERS and calculates flow rate and also integrates the same. The 4 digit indicator displays the instantaneous flow rate and 10 digit counter displays TOTAL FLOW.
INPUTS
4-20 mA, or Volt Pulses.
RANGE
Flow Totaliser - 10 digits.
Flow Rate - 0-9999 Units (Lit/Min or Kg/Hr or Tons/Hr or M3/Hr)
ACCURACY
Cent Percent
DISPLAY
10 digits bright seven segment display for Flow Totaliser.
4 digits bright seven segment display for Flow Rate
PARAMETER SETTING
By soft touch, Elegant, Sturdy & user friendly membrane key pads.
MEMORY
10 years NVRAM.
COMPUTER INTERFACE
RS232 or RS 485, MODBUS available.
SUPPLY
90-260 VAC, 50 Hz, SMPS
AMBIENT CONDITION
Temp 55°C & Relative Humidity 99%
RETRANSMISSION
Available
• 4-20 mA for Flow rate.
• Pulses for Flow Counts.
SET POINTS
2 Nos, Possible for Flow rate & Flow Totaliser.
OUTPUT
2 Relays, rated 230 V / 6 Amp.
BOX
96(H) X 192(W) X 180(D) Din Size box with modular design.
Also available in FLAMEPROOF ENCLOSURES
For Hazardous application.