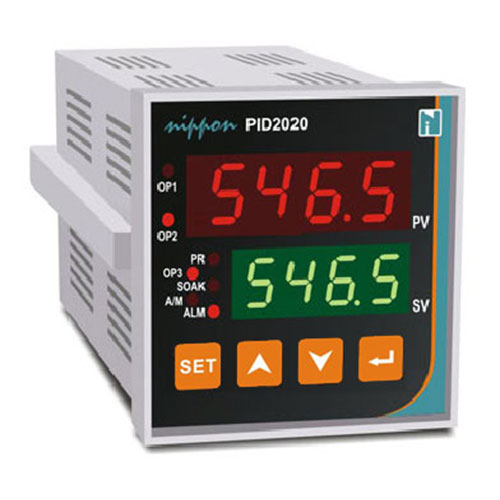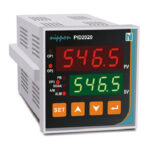 NIPPON-PID Controller 2020
Nippons introduces state of art, truly universal, powerful PID controller with inhouse design. The PID2020 series is developed with state of art microcontroller. The robust hardware and software makes the controller
very useful in noisy industrial environment. The PID2020 finds applications in Industrial Ovens, Muffle Furnaces, B.O.D. Incubators, Humidity Chambers, Environmental Chambers, Sterlizers, Blood Bank Equipments, Constant Temperature Baths, Packaging, Plastic Moulding, Thyristors Heat Controllers, Motor Controllers, Controlled Melting, Valve Control…etc.
Table A:
INPUT
SENSOR
RANGE
ACCURACY
R.T.D.
PT-100
-200 to 600 °C
± 1 °C
PT-1000
0 to 500 °C
± 1 °C
THERMOCOUPLES
Chromel/Alumel (K)
0 to 1300 °C
± 1 °C
Iron - Constantan (J)
0 to 750 °C
± 1 °C
Copper-Constantan (T)
-200 to 350 °C
± 1 °C
Pt / Rh (R or S)
0 to 1700°C
± 1 °C
D.C. LINEAR INPUTS
4 to 20 mA / 0 to 20 mA
User Programmable
± Least count
± 50 mV, ± 100 mV, ± 200 mV, ± 250 mV
User Programmable
± Least count
± 1V, ± 3.3V, ± 5V, ± 10V
User Programmable
± Least count
Specification :
Input
ONE UNIVERSAL Input Thermocouples : J,K,T,R,S RTD's : PT-100, PT-1000 DC mA : 0 – 20 mA, 4 – 20 mA (Maximum 12 Volts) DC mV : ± 50 mV, ± 100 mV, ± 200 mV, ± 250 mV DC Volts : ± 1V, ± 3.3V, ± 5V, ± 10V
Range
Refer 'table A''
Ambient
Compensation automatic, ambient 0-60 °C
Resolution
1 or 0.1 or .01 or .001 programmable
Display
Super bright in 4 + 4 format , with NO BLINK programming technique

Upper 4 digits 0.5" red colour
Lower 4 digits 0.39" green colour

Ananciation L.E.D's
7 L.E.D.'s , 3 mm , multi colour, 3 for O/P's, 1 each for A/M, Alarm, Profile, Soak Time
Parameter Setting
By soft touch, Elegant, Sturdy membrane keys & User friendly menu driven software
Outputs
THREE, Programmable outputs with modular attachments

Relay module
SSR module
4-20 mA module
Retransmission module

Note

Output modules are predefined
All three outputs can be assigned as relay or SSR or 4-20 mA, this means at a time either 3 relays or 3 SSR's or 3 4-20 mAs outputs also available
INPUT Control Outputs Rating
Relay SPST 230V / 3 Amp, 12 volts DC pulses for , 4-20 mA (Load 450 ohms)
CONTROLS
PID / On-OFF / TP

PID P = Propotional Band = 1.0 to 999.9 units adjustable I = Integral = 0 to 3600 ( 0-1200) seconds adjustable D = Derivative = 0 to 500 seconds adjustable CT = Cycle Time = 0.5 to100 seconds adjustable
On-OFF Hysteresis = 1 to 99 units adjustable
Time Proportional = 0.1 to 100.0 units adjustable

PID for O/P 1 and O/P 2
ON-OFF for O/P 1, O/P 2 , O/P 3
T/P for O/P 1, O/P 2 , O/P 3

Heat / Cool / Heat-Cool
Provided

Assigned for O/P 2 or O/P 3, Soak Timer programmable (HH-MM or MM-SEC)
Set Point Start up or Power on start up

Provided, 0 to 100%
ALARMS
Assigned for O/P2 and O/P3 Alarm Types : Low / High /Band /Deviation / End of Profile Alarm Acknowledge : Latchable / Unlatchable Alarm Inhibit : Available
Retransmission
4-20 mA or 20-4 mA or 0-20 mA or 20-0 mA programmable, Non-isolated, Retransmission assign for O/P 2 and O/P 3 Provided on request
Communication
RS485, 2-Wire, Half duplex RS485 MODBUS on request, MODBUS RTU or ASCII Baud Rate Programmable 1200/2400/4800/9600, contact factory for higher Baud Rates
PROFILER
2 Profile Programmes / 8 Segments Each

Each segment programmable for either RAMP or SOAK
Profiler can be configured as : - RAMP/SOAK - RAMP/RAMP - SOAK/SOAK - SOAK/COOL
Soak Time programmable in HH-MM , MM-SEC
Overshoot control during profile
Event on End of segment and / or End of profile
Images