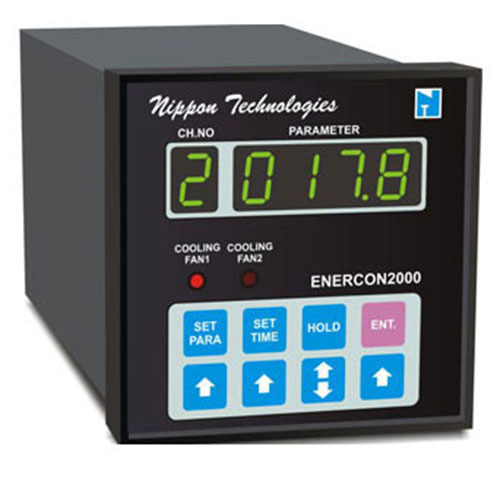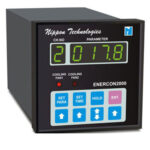 Nippon ∆T Indicator
∆T controllers are use for COOLING TOWERS. ENERCON2000 is a state of art micro controller based instrument idealy used for energy saving In cooling towers. The cooling tower in is switched ON & OFF as per the logic designed and Incorporated by ENERCON2000. This leads to tremendous saving of electricity bill.
Inputs
3 channels; T(Inlet), T(Outlet) and T(Ambient)
Sensor
Pt100, 3 wire R.T.D. 's
Range
0-60 °c
Setpoint
2 set points T(F) and T(Ref)
Output
1Relay rated 230 V, 6 Amp.
Setting
By soft touch membrane key pads
Supply
90-260 VAC , 50 Hz
Box
96(H) x 192(W) Din size ABS molded box
Logic
T(Inlet) is Input to cooling tower, T(Outlet) is cold
water coming out from cooling to
T(Inlet) -T(Outlet) > T(F) fan ON
T(Inlet) -T(Outlet) < T(F) fan OFF
T(Ambient) > T(Ref) fan ON
T(Ambient) < T(Ref) fan OFF
THE LOGIC LEADS TO OPTIMUM USE OF COOLING FAN. Results in saving of Electricity bill. Delay time (t1) also available to avoid frequent on-off of cooling fans. The delay time (t1) is programmable. This helps to improve life of cooling fan. TIME TOTALISER is provided for fan on time calculat.