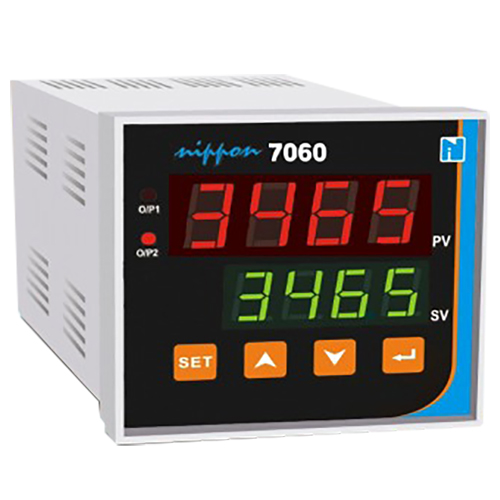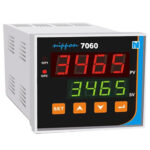 NIPPON 7060
Features
Accepting wide range of inputs
Dividing & multiplying factor provided
Easy to operate & to read display
Modular design
Nippon has developed state-of-art microcontroller based Nippon 7060 is Digital RPM meter having inputs like photo sensors, voltage pulses, contact closures, proximity switches, limit switches etc.
RPM meter can operate in 3 modes: RPM, RPH or frequency within range 0-9999 counts.
Provides delayed ON/ delayed OFF control. It also includes features like dividing & multiplying factor
The design is available in DIN Box with modular card & 2 relay outputs
Simple design & user friendly settings makes it very useful in centrifuges, stirrer, control panels, drives, pharmaceutical & chemical plants where accurate RPM measurement & control is required.
| | |
| --- | --- |
| Input : | Photo  sensors, contact closures, proximity switches, limit switches, encoder, voltage pulses |
| Range  : | 0-9999 RPM |
| Accuracy : | +_ 1 RPM |
| Display : |  Red display for PV 4 Digit 7 seg. LED 0.56" height, Green display for SV 4 Digit 7 seg. LED 0.39" height |
| Logics : | Delay ON, Delay OFF, Auto reset, dividing & multiplying factor. |
| Output : |  2 Relays with potential free contacts. |
| Modes : | RPM, RPH and frequency |
| Power Supply : | 230V AC +- 10%, 50Hz |
| Box Size : | 96mm(L) x 96mm(W) x 110mm(H) |