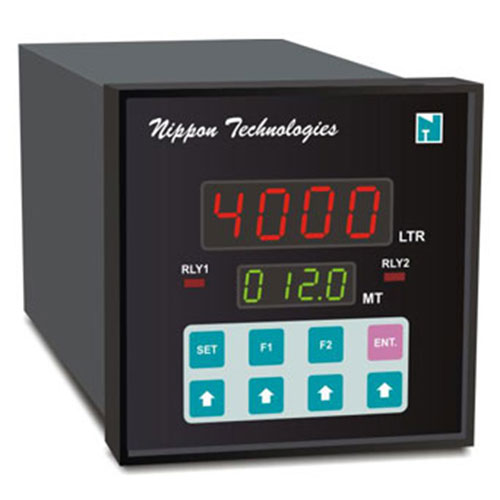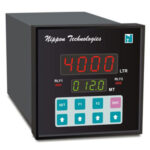 Nippon Volume Lavel Indicators & Controllers
Universal Process Indicator / controller is widely used for measuring level & in turn volume. Arithmetic capabilities of "microcontroller" is used. Level is measured with help of level transmitters, the Cross Sectional area of the storage TANK is to be programmed in the instrument. Instrument will calculate VOLUME of the liquid present inside the tank. The formula used is VOLUME = HEIGHT x A
The above instrument along with NIPPOLOG can provide excellent INVENTORY MANAGEMENT for LIQUID STORAGE Tank.
Level Control can be achieved using control functions of the instrument.
Input
From 2 wire transmitter (4 to 20 mA), 24VDC available
Range
User selectable measuring ranges Programmable from -1999 to +1999, with decimal point.
freely configurable from most to least significant digit.
Accuracy
±least count ( i.e. 1 or 0.1)
Setting
Easy setting of measurement ranges & High/Low limits by Feather-touch, elegant, long life & user friendly membrane key pads.
No trimpots to be touched.
Display
Bright seven segment, 4 digits for parameter & 4 digits for status.
Limits
High & Low Limits
Controls
On-Off, TIme Proportional, PI control action
Dead Band
Programmable
Logic
Heater or Alarm Programmable
Output
2 Relays corresponding to each limit rated 230 V / 6 Amp.
Retransmission O/P
user programmable 0-20mA/4-20mA, On request
Computer Interface
RS232 or RS485 available
Password
Lock facility to avoid tampering
Design
Modular, Sturdy & Wireless design
Noise Immunity
EMI/RFI interference is suppressed by MOV's & R-L-C filters
Supply
90-260 VAC, 50Hz
Ambient Conditions
Temp. 55oc & Relative Humidity 99%
Box
Height - 96 mm, Width- 96 mm, Depth - 150 mm, DIN size
Notes
1. Control o/p with PI control action & 4-20 mA Control o/p on request
2. "Soaking time" function on request
3. S.S.R. o/p available.