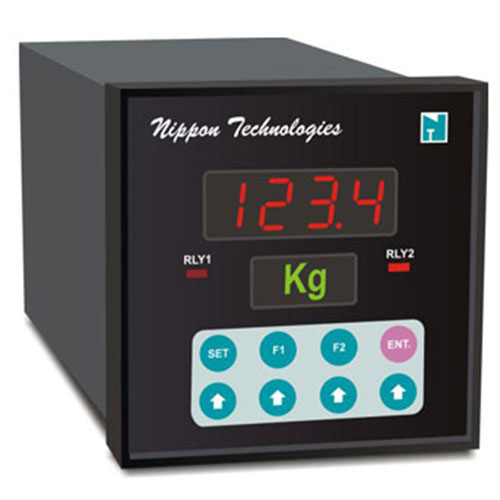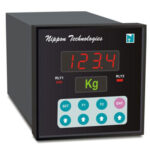 Nippon Weight Indicators & Controllers
Load 2000 is used for accurate weight measurement & controls. Load 2000 provides precise excitation voltage to the load cell.
The load cell o/p is measured & displayed. Instrument is provided with 2-Relay o/s.
S.S.R. o/p is provided for faster CLUTCH/BRAKE operations.
Load 2000 is widely used in Dozing, Packaging, Textiles, Winding …etc…where accurate WEIGHT measurement is
Input
From 2 wire transmitter (4 to 20 mA), 24VDC available
Range
User selectable measuring ranges Programmable from -1999 to +1999, with decimal point.
freely configurable from most to least significant digit.
Accuracy
±least count ( i.e. 1 or 0.1)
Setting
Easy setting of measurement ranges & High/Low limits by Feather-touch, elegant, long life & user friendly membrane key pads.
No trimpots to be touched.
Display
Bright seven segment, 4 digits for parameter & 4 digits for status.
Limits
High & Low Limits
Controls
On-Off, TIme Proportional, PI control action
Dead Band
Programmable
Logic
Heater or Alarm Programmable
Output
2 Relays corresponding to each limit rated 230 V / 6 Amp.
Retransmission O/P
user programmable 0-20mA/4-20mA, On request
Computer Interface
RS232 or RS485 available
Password
Lock facility to avoid tampering
Design
Modular, Sturdy & Wireless design
Noise Immunity
EMI/RFI interference is suppressed by MOV's & R-L-C filters
Supply
90-260 VAC, 50Hz
Ambient Conditions
Temp. 55°C& Relative Humidity 99%
Box
Height - 96 mm, Width- 96 mm, Depth - 150 mm, DIN size
Notes
1. Control o/p with PI control action & 4-20 mA Control o/p on request
2. "Soaking time" function on request
3. S.S.R. o/p available.