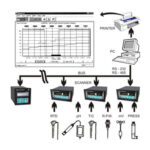 Nippon Data Acquisition Systems
Nippon Technologies was established in 1991 with the objective to design & manufacture INSTRUMENTATION products. In the journey of twelve years range of products delivered have become 'benchmark' in the industry. A milestone was reached in 1997 with introduction of state-of- art data acquisition system The customer acceptance was enormous.
Description
Specification
Nippolog is constantly upgraded as per the requirement of industry. We have invested more than 25 man-years in up gradation of Nippolog. Today Nippolog is flagship product of the company, it consists of SCANNERS, CONVERTORS, MEMORY BANKS & SOFTWARE. If your measurement & data logging application involves a diverse array of sensors or events, located centrally or over large distance, then Nippolog is the answer. Nippolog can become foundation of your measurement & data acquisition. It increases PRODUCTIVITY through accurate measurement, data acquisition, data analysis & data visualiz. Nippolog- a robust architecture functions reliably even in electrically & environmentally harsh environment. The software periodically aquires data from scanners and presents it in various forms at the user's monitor. Nippolog is interactive and very simple to use. It's features include Graphical Trends, Tabular Listing, Batch-wise data archival, Online Help, and many others. This becomes simplest tool for dozens of uses. Nippolog finds application in Pharmaceuticals, Bulk Drug, Dyes and Chemicals, Petrochemical, Engineering, Power Plants,Glass, Textiles, Air-Conditioning/ Refrigeration, Test Laboratories and many other industries. There are over One hundred successful installations.
Input

RTD's, Thermocouples, 0-1 VDC, 4-20mA, Logic Inputs,,

No. of Channel
Interfacing up to 256 parameters
Trends
Graphical and Tabular display
Archival
AAutomatic, Programmable, and Batchwise data Storage
Access Mode
Normal User and Super User mode.
Communication
RS232 and RS485
Protocol
Proprietory ASCII, MODBUS on request
Data Export

Access
Excel
Customised Report

Minimum PC Requirement

Windows 98
Pentium with 64MB RAM & 20 GB HDD Colour Monitor
FDD / CD ROM Drive for s/w installation
Colour InkJet Printer for Printing the Graphs